OUR INTERNATIONAL RALLIES for specific types of car on Original 1950s Rally Routes are UNIQUE:
For 2013, TVRs had a unique chance to join the fun. If you would like YOUR marque to be chosen for future years, let us know: Click here to email us for more info.
For 2014, we took Jaguar XKs and E-types to the Pyrenees on XK-E Pyrénée.
And for 2016, we will take Jaguar XKs and E-types to Greece and Crete on the Mycenaean-Minoan Rally.
Jaguars to Greece & Crete Sep 25-Oct 14, 2016

After the great success of the 2012 LBL for members of the Jaguar XK and E-type Clubs, for 2014 we revisited the route of the 2009 Micro Marathon with the same two Clubs - and for 2016 we will go to Greece and Crete. See Newsletters for more info.


Get your Entry Form and Regulations, and get your name on the list - email us now!


LBL 2013, JULY 11-21: TVR fun!

For 2013 we celebrated the 55th anniversary of the original LBL, inviting all models of TVRs and especially all members of the TVR Car Club. There were classes for 20th Century and 21st Century TVRs.

DON'T MISS THE STUNNING SLIDESHOW OF LBL 2008 - CLICK HERE TO VIEW IT!

The route for Liège-Brescia-Liège 2013 ran from Liège to Liège via Karlsruhe, Misurina, Ljubljana, Carezza, Brescia, Merano, Bernried and Bretten, with lots of navigational challenges, interesting visits and fun circuit tests along the way. Read what competitors said about the event HERE...
In July 1958, 54 pioneers in 27 tiny cars set out from Liège in Belgium in a brave attempt to prove that the new breed of tiny-engined cars, made popular by the Suez crisis two years earlier, were not just toys but could do everything their bigger sisters could do – and much more economically.

The schedule was staggering. Cars would leave Belgium on Thursday evening, travel all night through Germany, cross the Alps via Austria then head east through the Dolomites into Yugoslavia, tackling many notorious loose-surfaced mountain passes on the way. Still without stopping except for fuel and snatched refreshment, they would turn around at Ljubljana and return through the Dolomites to tackle Europe's most challenging mountain pass, the Stelvio, descending south to Brescia.
There, the cars went into parc fermé, meaning they could not be worked on, for eight hours while the crews had a little rest (assuming, of course, that they arrived on time – none did) before heading back north up the Gavia pass and down the Stelvio, then up over the Alps, Austria and Germany, back to Liège, arriving Sunday evening. That's over 2000 miles of flat-out driving, averaging well over 30mph through three nights in tiny cars with engines as small as 250cc. Just 13 of the 27 starters made it...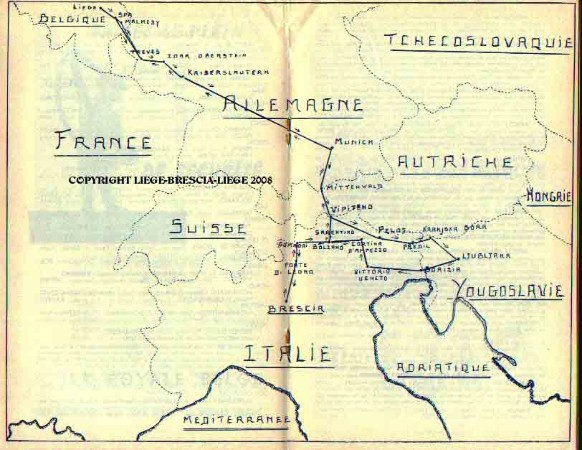 If you need insurance for your classic vehicle, you can get quotes from Classic Car Insurance to help reduce your annual insurance premium. This free service helps owners of vintage and older vehicles get lower prices on their insurance.

For 2008, we created a celebration rally over the exact same route (right), for the same cars plus slightly later cars in the same spirit up to 700cc. 54 - double the number in the original rally - started from Liege on July 11, 2008, navigating from Michelin maps provided and quickly learning our innovative route checking system that ensures you follow the correct route, or pick up penalties for taking the wrong roads...

This was no easy cruise - torrential rain through Belgium, Germany, Austria, Italy and Slovenia added to the strain on the first four days, but crews and cars rose to the challenge. The sun finally joined us in Ljubljana and stayed with us to the end of the rally. Cars that could have been eligible for the original event competed in 250/350/425/500cc classes in the Authentic category; slightly later and larger engined cars competed in 425/500/600/700cc classes in the Spirit category.

"Fantastic", "unforgettable", "wonderful", "the best rally ever" and "a life changing event" are just some of the many tributes that have been paid by competitors on the 2008 event...

See the LBL08 page for full results and more photos.

On July 12-22 last year, the 2012 Liège-Brescia-Liège took 10 days to follow the same route as in 1958, 54 years after the original rally, and was enjoyed by 10 Jaguar XKs (120-150) and 19 Jaguar E-types. This touring event covered approximately 200 miles (330km) each day, with competitive tests on private tracks in Belgium, Slovenia, Italy and Germany combining with sheer endurance to establish worthy winners. Crews plotted the route on Freytag & Berndt and Michelin maps from the original list of place names, adding navigation to the challenge. Further interest was added by visits to the charming Boxenstop Museum at Tubingen, the National Technical Museum of Slovenia at Vrhnika, the newly revamped motor museum at Engstingen, the personal collection of Italian engineer Gino Tonutti near Udine, the Museum of the Mille Miglia in Brescia, the superb car collection of motoring writer Fritz Busch, housed in a magnificent castle in Germany, the stunning Schloss Lichtenstein and the authentically recreated wooden mediaeval castle and settlement of Bachritterburg, populated by families living just as they would have done c1270...

We stayed at the very best hotels along the route, several five star and almost all the rest four star. In Brescia, we stayed in the spectacular Villa Fenaroli Palace (below) - we believe that classic car rallying should be challenging, but there is no need for roughing it: at the end of a hard day's driving, navigating and sight-seeing, we want to see you relax and enjoy yourselves! See the Links page for all the hotels we use, and some we have used in the past.

Hastings Direct Online offer a great service 
as they provide a fantastic comparison system
which provides the cheapest available car insurance quotes 
in the UK. Make sure you visit the site today!